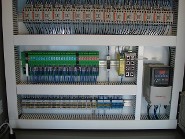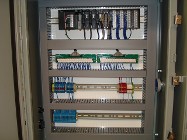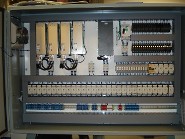 Industrial Technical Services, Inc. is comprised of a group of experienced professionals dedicated to the highest quality in design, fabrication and integration of all types of control systems. We take pride in the level of detail, accuracy and quality we put into everything we do. With over 25 years of experience you can be sure that the project we do for you will exceed all expectations. If we can not do the project to our highest standards, we will not do it at all.
Our capabilities also include on site panel modifications nationwide as well as worldwide. Please contact us for rates. This saves you money on the cost of new enclosures, especially if they are very large. These however would not be able to be UL listed.
We also build medium size custom machines for all types of industries. Why build the machine in one place and the control panel in another?
With so many years of experience, we understand the importance of systems that are maintenance friendly so we add quality features that assure ease of installation and improve field serviceability such as:
*All control panels are UL Listed as required at no "extra" charge.
*Computer generated wire and device labels
*Wiring harness includes 10% spares for future use.
*All I/O points and door mounted device connections are terminated on terminals.
*All panels have communication ports on the outside of panels.
Contact us today to get your project underway. Please check out our Photo Gallery page.

*UL is not affiliated with Industrial Technical Services, Inc. and does not endorse this web site.