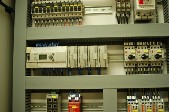 Industrial Technical Services, Inc. offers a full compliment of design services as well as programming. We are able to fabricate a system based on a description or drawing supplied by our customers. Most often we have built something similar. We also build these systems by customer supplied drawings and in some cases, with customer supplied parts. We make sure the system functions as required by testing every aspect of the control system. We have the proper experience to address and resolve all issues that may arise during the design, fabrication and start-up of all systems. Below is a brief summary of what our capabilities are:
*Design, fabrication and integration of all types of control panels and systems, whether it is one small panel or hundreds of large panels.
*Programming of a large amount of PLC and HMI brands such as Allen Bradley, Siemens, GE, Omron, Automation Direct. We also design and program systems which are PC based.
*We use all type of drives such as Allen Bradley, Siemens, GE, Yaskawa.
*We are UL 508A and cUL certified. This only applies to shop built control panels.
*We are capable of building your control panels on site or modifying them as needed. This helps save on cost associated with the purchase of very large enclosures.
*We produce the latest version of AutoCad drawings to industry standards.
*Start-up, field service and technical support whether nationwide or worldwide.
*We also build small custom machines as well. Why have the machine built in one place and the control panel built in another?
*Through our large nationwide network of contractors, we install or assist with the installation of what we build. We are also an Electrical Contractor located in Richmond, Virginia.

*UL is not affiliated with Industrial Technical Services, Inc. and does not endorse this web site.
Below is a partial list of some of the industries we serve:
Health Care, Material Handling Equipment and Systems, Food Processing, Pharmaceutical, Custom Machine Manufacturers, Packaging Equipment, Robotic Systems, Conveyor Systems, Hydraulic and Pneumatic Systems, Testing and Cleaning Systems, Mining, Aerospace Industry.
Contact us today to get your project underway.Please check out our Photo Gallery page.